The key phrase "Just-In-Time" has particular importance in the transport and logistics sector and is often critical for customer loyalty. Alongside personnel costs in this sector, the system costs and the expenditure on processing time must also be kept low due to the competitive pressure.
AutoMatic offers ideally customised check weighers specially for this. The rapid determination of the weight values is of course self-evident. By adding on further sensors for this sector, legible information can be provided with OCR/ICR technology or data such as volumes, codes (barcode, 3D-matrix, RFID etc.). Also, delivery note data can be created or checked. The control of downstream sorting systems supports your processing of the goods.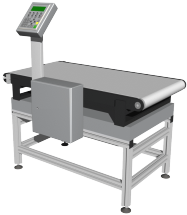 AutoMatic expands your check weigher to an intelligent process cell in order to realise the full extent of your requirements. The bidirectional communication with higher-level control systems is likewise provided along with the facility to provide documentation and verification of the completeness with shipments of highly-sensitive goods by means of camera technology.