You manufacture from plastics or metals or produce components for the electrical sector and require perfect solutions for precise weigh checking of individual parts or packagings, for your production and quality assurance processes.
With the check weighers from AutoMatic you can be sure of reliable identification of the smallest errors in quantities with automatic ejection of articles that violate tolerances. Also ideal for the completion of manual work stations for final checking of the production components.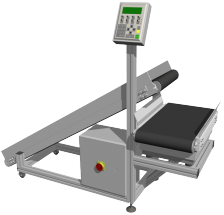 In particular with order picking of article sets, a visual check is often only possible within limits. Appropriate checking can be realised with a check weigher. As a result you receive a 100% checking for 100% customer satisfaction.