In the foodstuffs industry there is more to be considered than just absolute hygiene. When filling, it is essential that contamination with foreign substances is prevented as well as the compliance with the legal weight tolerances being guaranteed through the use of measurement instruments that are capable of being calibrated. A 100% checking of the product reduces the use of personnel and provides the security that all of the products shipped comply with the regulations.
The check weighers from AutoMatic fulfil exactly these requirements and can also detect foreign substance contamination through add-on metal detectors, X-ray inspection devices or other sensors, and safely remove faulty products. To optimise the filling (avoidance of below-weight products and reduction of raw material use) there are various different processes and algorithms available for controlling the filling machines. Often multi-lane production lines are employed to achieve higher production performance. AutoMatic also supplies suitable multi-lane systems for this.
With the automation of the filling of drink into bottles, cans and barrels, the containers must be checked to ensure they are properly filled before leaving the production line so that incompletely filled or leaky containers can be sorted out. In order to keep production properly aligned with orders, be able to implement the associated frequent changes in format as quickly as possible and to avoid incorrect entries, the check weigher must be completely integrated into the control network. In many cases other product features must be tested and checked along with the weight. This can include checks such as the proper closing of the packaging or the legible printing of a label.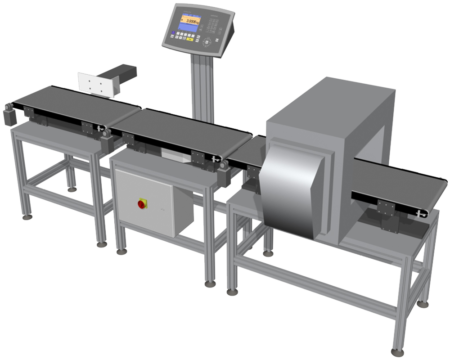 AutoMatic provide suitable check weighers specially for this branch of industry. In order to take environmental conditions into account, we also offer check weighers with a protection class up to IP69K and can also manufacture them in stainless steel on request. In order to comply with global use and to minimise spare part stocks, most of the components used are not only available throughout the world but as also well known throughout the world.
In order to guarantee uniform filling, the filling heads should be optimally adjusted. The intelligent filling head analysis of the AutoMatic check weigher offers you the automatic calibration of the filling heads or provides the operator with the necessary adjusting instructions for manual compensation. Thus the productivity of your process is increased and the profits maximised.
Examples of products for the control of medium weights
Examples of products for the completeness check