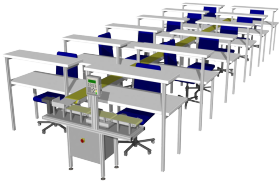 With the production of pharmaceutical products it is particularly important to ensure that the accompanying package leaflet with the product information is present. Ideally, this can be guaranteed with a check weigher directly connected to a packaging machine or a manual work station and 100% checking. In many cases the batch number and/or the 'use-by' date is added simultaneously and the legibility checked. Alongside the validation of the system, other product inspections (such as proper closure of the packaging for example) and data transfers to higher-level systems are standard for the AutoMatic check weighers.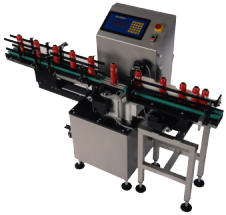 With the filling process for cosmetic products great value is placed on the precise observance of the weight stipulation not only to avoid overfilling with the most expensive ingredients, but primarily to guarantee uniform quality. Also the addition of propellant gases with spray cans is controlled within tight limits in order to assure the safety of the consumer as well as guaranteeing the functionality of the can. AutoMatic check weighers are also ideally designed for this.
Transport systems were developed by AutoMatic specially for the handling of partially filled and not yet closed slim product containers with low centres of gravity (e.g. cans with small diameters) in order to exclude the products being dropped during transfers, weighing, sorting or hand-overs of the product.