In the chemicals industry, the precise metering of components and the consistent high quality of the end product are amongst the most important criteria. The clever algorithms for the metering and colour mixing systems from AutoMatic fully meet your requirements in the area of filling of bulk goods, powders and liquids. Also in the final check, the AutoMatic check weigher guarantees the fill quantity for you.
In mining, the required quantities are registered, checked and documented as they flow with belt weighers from AutoMatic.
The option to optimise the fill quantity to avoid over-filling or under-filling on the basis of the weight determined is likewise standard with the AutoMatic weighing systems as is an uncompromising integration into the higher-level control and management systems.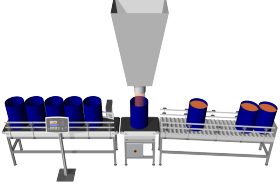 Regardless of whether we are dealing with laboratory conditions or rough outdoor use. The system is optimised to your process, designed in accordance with the requirements and is manufactured with a protection class up to IP69K as well as using materials up to V4A in order to be properly suited to the outside influences to which it will be exposed. If necessary the system can also be designed for operation in explosive atmospheres.