The change in the media landscape and the rapid growth of internet trade requires even more efficient systems for rapid and cost-effective processing of returned goods.
The products must be available at short notice and with little effort and the question must be answered: "Who has what, how many units and what is the quality of the returns". The quality in particular and "is anything missing?" or "is anything damaged?" are of particular importance when dealing with re-crediting or invoicing.
AutoMatic have applied many years of experience in weighing technology coupled with intensive industry know-how to the development of innovative returns systems and have set unique milestones. The smallest of missing quantities is detected with superb precision weighing technology. The innovative stacking surface and the clever count program enable high through-put rates to be achieved. It is not necessary to process each individual item separately in order to carry out a 100% check.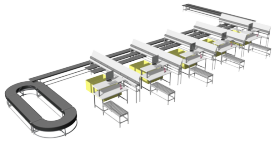 This saves time and takes the strain off personnel resources. The high degree of automation reduces the training times and minimises incorrect entries and incorrect operation with a great diversity of different products. The results data is transferred online and is immediately available for your assessment or prognosis.
The ergonomically matured work station reduces physical stresses for the operator to the minimum and is a welcomed aid particularly where performance-related pay systems are in place thanks to the high through-put rate with the systems from AutoMatic.