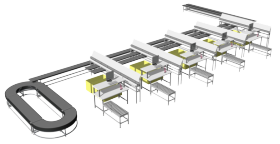 Product description
With automated systems from other manufacturers, the objects must be individually taken by hand and placed in or on a transport system.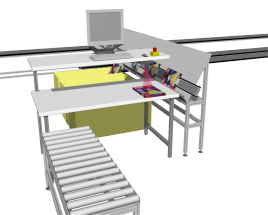 "Just push your work off your desk and let someone else do it" – this is how SARA works. You push (and why not whilst sitting) the objects off the table individually, into the feed section. SARA takes the object automatically and carries out the next functions (counting, sorting, totalling, etc.). You need not concern yourself with it after this, not even with the collection of special objects. Only the information regarding which customer/debtor is currently being dealt with needs to passed on to SARA. And this is most often also done without manual input, automatically via the scanner.
In particular with products that cannot be stacked or with the advent of objects with low article stack height, the 100% checking of the returns can be guaranteed with SARA using the one-by-one method. Space-saving and cost-effective as a stand-alone system or to be integrated into a central, multi-lane sorting belt system, SARA is the right choice.
Highlights
Reliable detection of all objects by use of multi-directional scanner
Output-related counting and ejection of objects through Copy-Count-Compartment function
Offline operation through independent database
Remote maintenance through remote control function
Version for tablet PC available
Overview and technical data
Automatic VR-goods and stock goods sorting in a single process step
Stock goods sorting fully automatic through separate ejection
No pre-sorting of objects necessary
Processing of plus-products – "gimmicks" and uncoded products
Document-related acquisition and customer-related counting
Reference quantity checking with automatic comparison of the object checking
Automatic customer change with available customer codes
Output-related counting and ejection of objects through Copy-Count-Compartment function
Simultaneous identification of all current barcodes
Rapid acquisition function for non-coded or non-acquired objects
Match-code search function (name, number, price)
Real-time statistics functions
Internal logic for early and/or late returns
Manual corrective bookings possible
Automatic generation of German or CCG codes
Support for daily returns collection
Correction of barcodes possible
Remote maintenance
Independent database for offline operation
Selectable acoustic signals for definable events
History window for acquired objects
Dynamic customer-related totals display
Object quantity checking
Automatic generation of a list of manually modified object data
Network server as cluster in a higher-level network
Manual marking of special objects for separate acquisition
Further transportation technology
Weighing of the individual collecting containers via floor scales
Workstation for manual re-working of special products
Ejection of unrecognised or not-found objects
UPS to protect the system in the event of a mains power failure
Guidance in application-specific technical and design areas
Project planning and project support
Installation and commissioning – worldwide